Servicing of gas detectors
Inspection & calibration of gas detectors
Supply with new gas detectors

 We offer reliable, modern, easy-to-use portable and individual gas detectors manufactured by Riken Keiki Co., Ltd. (Japan) 
Gas detectors are in stock at our warehouse at St.Petersburg.

GX-2009
The smallest and lightest 4-gas monitor in the world. 4 chanels - Hydrogen sulphide (H2S), Carbon monoxide(CO), Explosive/combustible gases (HC), Oxygen (O2)





GX-2001
4 chanels- Oxygen (O2), Explosive/combustible gases (HC), Carbon monoxide (CO), Hydrogen sulphide (H2S)




GW-2H
1 chanel - Hydrogen sulphide (H2S)




GW-2H
1 chanel - Oxygen (O2)



GW-2C
1 chanel - Carbon monoxide (CO)






RI-415
1 chanel - Explosive/combustible gase
RX-415
2 chanels - Explosive/combustible gases, Oxygen
Gas detector with an Infrared (NDIR) type sensor. These sensors provide accurate detection of HC/O2 (HC version) levels even in inert environments. This is much actual for measuring gas at cargo tanks on tankers. RX-415 model measure oxygen also. The RI-415 and RX-415 have explosion proof and intrinsically safe construction so that it can be used safely in any environment.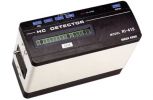 RX-515
New model designed for tankers. It's a combination type portable CH4, O2, CO and CO2 gas detector with an Infrared (NDIR) type sensor. Has an explosion proof and Intrinsically Safe design.





O1 series single gas personal monitors
OX-01 (Oxygen)
CO-01 (Carbon monoxide)
HS-01 (Hydrogen sulfide)
GP-01 (Explosive/combustible gases)
Individuals need personal protection in hazardous areas at all times without adding extra bulky equipment, and the 01 Series can provide that kind of protection at an affordable price. Each model is operated on common AAA size batteries.